Many of the projects we have supplied scaffolding services to have involved repair and renovation to buildings in which people live and work. Sometimes though, our work focuses on structures designed to deliver services and one of these is Aqueduct 35 in Colne, Lancashire.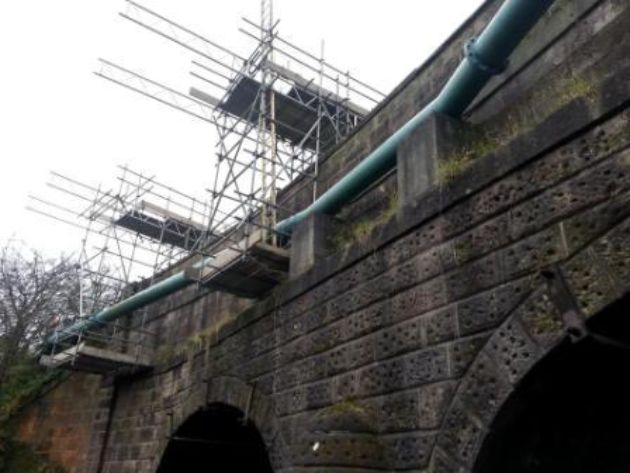 To reduce manual handling requirements, Mitchell's hired a quad and trailer which were used to transport scaffold equipment to the erection site. Specialist clothing was purchased in order to ensure that all operatives were fully equipped to carry out safe working practice.
The project involved the planning and subsequent erection of three individual drop scaffolds, each of which was installed at a key point along the length of the aqueduct. These scaffold allowed the contractors to gain access to the areas within which the mains gas pipe and eroded concrete plinth are located.
One of the key requirements of this unique project was to prevent any pressure whatsoever being placed on the walls of the viaduct; experts from Mitchell's Scaffolding Ltd therefore designed a system that incorporated a fixed amount of kentledges (a system of weights used to load-test piled foundations), allowing the scaffold to be constructed directly on the adjacent tow path.
The entire process was overseen by officials from the National Grid, ensuring that all work was carried out according to strict regulations. After all necessary repairs were completed, our operatives removed the scaffolding, leaving the area clean and tidy. Residents of the Colne area can now look forward to a guaranteed supply of gas for many years to come.
Check out the 'Portfolio' section of our website to find out more about the diverse scope of work carried out by Mitchell's Scaffolding Ltd.